Azek Decking
THE LEADING BRAND OF ULTRA LOW MAINTENANCE DECKING.

AZEK Deck Boards have pioneered a new generation of Ultra Low Maintenance Decking. This innovation is in response to market demand as consumers move away from wood and composites and look for the best decking material. AZEK Deck Boards limits the shortfalls associated with traditional wood and composite decking so that you can enjoy your deck without worry.
Refining and redefining what decking means, AZEK Deck Boards has been engineered to withstand the everyday things tha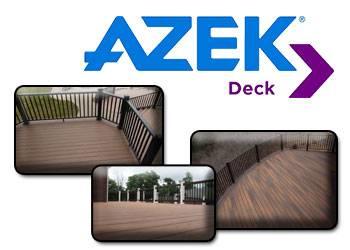 t happen on a deck. Even spilled wine, fruit punch, and hamburger grease are no match for AZEK Decks stain resistance. And, since AZEK Decks are scratch resistant, you wont have to worry about marks from patio furniture or pets.
With AZEK Deck, you can rest assured your deck will continue to look great for years to come.
Stain resistant
Scratch resistant
Split resistant
Mold and mildew resistant
Durable and long lasting
Impervious to moisture and insects
Limited lifetime warranty
Building Code listings ESR-1667 and CCRR-0101
Take the AZEK Deck Double Dare and you will see first hand why AZEK Deck beats any other decking material wood or composites hands down.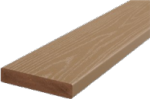 AZEK Deck
AZEK Deck comes in 1" x 3 1/2" and 1" x 5 1/2" widths and lengths of 12', 16' and 20'.
---
AZEK Rim Joist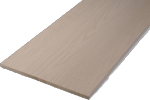 AZEK Deck's Rim Joist is a perfect complement to finish off an AZEK Deck. AZEK Rim Joist is available in 1/2 x 11 3/4" widths in all AZEK Deck colors.

For details on AZEK Deck Product Sizes, click on Technical Documents and Choose "
AZEK Complete Product List"
LIFETIME LIMITED WARRANTY
AZEK Deck components (the AZEK Products) are warrantied by the manufacturer, AZEK Building Products Inc., (AZEK or Manufacturer) in accordance with the terms and conditions set out below, to be free from defects in material and workmanship that (i) occur as a direct result of the manufacturing process, (ii) occur under normal use and service, (iii) occur during the warranty period and (iv) result in blistering, peeling, flaking, cracking, splitting, cupping, rotting or structural defects from termites or fungal decay.
NOTIFICATION: It is a condition of this warranty that should your AZEK Products show defects at any point, Purchaser/Property owner will notify AZEK in writing within 30 days after discovering the claimed defect and prior to beginning any repair or alteration to the AZEK Products. The notice must include a detailed description of the claimed defect, photograph(s) of the defect and proof of purchase.
It is a further condition of this Warranty that the Manufacturer will, within a reasonable period of its receipt of such notice, be permitted to inspect the claimed defect. If, after inspection, the Manufacturer determines that the claim is in accordance with the terms of this Lifetime Limited Warranty, the Manufacturer will repair or replace the defective material, or will refund the original purchase price of the defective material. The choice of remedy is in Manufacturers sole discretion. The Manufacturer will not be liable for labor and/or removal costs connected with the claim. Replacement product will be provided as close to the original color as possible, although it is not guaranteed to match completely. In the event of repair or replacement, the original warranty shall apply to the repaired or replaced portion of the AZEK Products and will extend for the balance of the warranty period in effect at the time the material proved defective.
LIMITATIONS: This Lifetime Limited Warranty is void if any of the following occurs: (a) improper installation and/or failure to abide by the Manufacturers installation guidelines; (b) movement, settling, distortion or collapse of the ground or supporting structure on which the AZEK Products are installed; (c) naturally occurring casualties including impact of objects, earthquakes, tornados, hurricanes, lightning, flooding or acts of God; (d) improper handling or storage, neglect or misuse of the AZEK Products either by the Purchaser or third parties; (e) improper application of paint or other surface chemicals not recommended by the Manufacturer in writing; (f) adverse effects of air pollution and (g) normal weathering of surfaces.
OTHER CONDITIONS The Manufacturer does not recommend the AZEK Products for all end use applications. The AZEK Products are intended for decks, boardwalks and piers. Local Code Authority should be consulted before installation of structures with specific load-bearing capacities and for other zoning code requirements. This Lifetime Limited Warranty is valid for single-family, residential applications only. For all other applications, including commercial use, this warranty shall be limited to a period of twenty (20) years.
THE WARRANTY STATEMENTS CONTAINED IN THIS LIFETIME LIMITED WARRANTY SET FORTH THE ONLY WARRANTIES EXTENDED BY AZEK AND ARE IN LIEU OF ALL OTHER CONDITIONS AND WARRANTIES, EITHER EXPRESSED OR IMPLIED, INCLUDING WITHOUT LIMITATION, THE IMPLIED WARRANTIES OF MERCHANTABILITY AND FITNESS FOR A PARTICULAR PURPOSE. THE PROVISIONS OF THIS WARRANTY SHALL CONSTITUTE THE ENTIRE LIABILITY OF AZEK AND THE PURCHASER/PROPERTY OWNERS EXCLUSIVE REMEDY FOR BREACH OF THIS WARRANTY. IN PARTICULAR, IN NO EVENT SHALL AZEK BE LIABLE TO THE PURCHASER/PROPERTY OWNER FOR SPECIAL, INCIDENTAL, INDIRECT, CONSEQUENTIAL, OR PUNITIVE DAMAGES ARISING FROM THE USE OF THE AZEK PRODUCTS OR THE BREACH OF ANY EXPRESS OR IMPLIED WARRANTY.
The laws of some states and provinces do not allow the exclusion, limitation or variation of certain conditions or warranties implied by legislation so the above limitations or exclusions may not apply to you. This Lifetime Limited Warranty gives you specific legal rights and you may also have other rights that vary from state to state and province to province.
NOTE: In order to register your Lifetime Limited Warranty, please complete and sign the Warranty Registration Card within forty five (45) days of purchase. Failure to do so may void certain portions of this warranty. This warranty and registration is non-transferable from the original Purchaser/Property Owner.
REGISTER BY MAIL: Please complete and mail to: AZEK Building Products Inc., 888 N. Keyser Avenue, Scranton, PA 18504
REGISTER ONLINE: Visit azek.com.